Don't know how to code?
Learn how to build your first web app with this beginner's guide to web development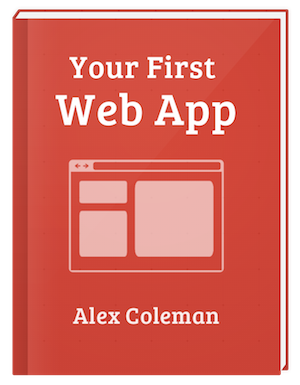 These days, when it comes to coding, there's a ton of information out there. Have you ever found yourself thinking, "I don't even know where to begin…" and ultimately just given up?
Me, too. And it's the worst.
It seems like even when you do track down tools and resources that look promising, too often they come up way short. They only focus on the outcome, rather than the big picture. They don't help you gain a true understanding of the process, which leaves you wanting, no, needing, more to move forward with your own ideas.
What if I told you it doesn't have to be that way?
When I was learning to code, I ran into all of these exact same problems. It was always: "Copy and paste this code, and you'll get this result. Moving on."
No one took the time to actually help me understand what I was doing. And I would get to the end of these so-called "lessons" and be left scratching my head thinking "What did I just do, exactly?"
So after struggling myself, and seeing tons of others struggle in these same exact ways, I decided I needed to take action. This book is that action.
This is the book I wish I had when I was learning to code
In writing the book, I thought about all of the challenges I faced when I was learning to code, as someone eager to learn but new to the world of coding. I thought about what I wanted to know and how it would've been most helpful to learn it. And then I set about providing you, the aspiring coder, with a comprehensive resource to help you learn to do what I love.
"I wish a resource like this existed when I was learning how to code. School only teaches you theory and this is way more hands on and useful, in my opinion."
Scott Williamson, Sr. Software Engineer, Intuit
No one needs another "learn to code in an hour!" course.
And that's not what this is.
The book is right for you if you want to understand the how's and why's behind coding and web development, and are not just focused on the finished product. It is right for you if you also value the big picture and want to understand the intricacies of coding.
You'll start from the beginning, first learning—
how webpages and web apps function;
how to set up your own computer for development;
the basics about all the moving parts of a web app, how they function, and their relationships to one another
From there you will begin to actually build your very own web app, starting with the most basic concepts and advancing as your understanding of those concepts deepens. Some of these concepts include, but certainly aren't limited to—
how databases operate and how to construct your own from scratch;
MVC and object-oriented programming as they relate to web app construction
If there are things you're reading that make no sense right now, don't worry!
...Because learning to code is a process
The book provides information in measured, and considered ways. You're never presented with too much information at once and everything is explained in real-person language with no assumptions that any of this is stuff you already know.
One concept builds on another, which then builds on another. And  all of the core concepts are consistently revisited throughout the process of building your web app.
By the time you get to the end, you've not only built an entire web app, you've also practiced putting all of your new knowledge into action, time and time again.
And when it comes down to it, that's how you learn: through repetition and practice.
It may not be sexy, but believe me, it works.
"I've been around software for a long time but sometimes I don't quite get all the pieces. Most videos/books are either too detailed and don't provide perspective, or they don't give enough details. Your content is perfect. Just sayin'."

Dave Kruse, President, Mindful Chaos
Get a free sample chapter
The Complete Package
$249
Your First Web App book (PDF)

A complete guide that walks you through the creation of an entire web app, step by step.

↳ PLUS an advanced chapter: Implementing User Logins
ALL of the code files for the complete web app created throughout the book

(pre-built for your convenience)

Walkthrough Videos

Nearly 2 hours of videos walking you through crucial aspects of web development, and teaching you additional techniques to take you even further.

Writing Code Like a Pro: Sublime Text 2 Tips & Tricks
How a Web App Functions: a Walkthrough of MVC
Implementing Ajax for a Better User Experience
Using Git and GitHub to Manage Your Code
Deploying a Web App with Heroku

Quick Reference Sheets

So you always have the most important information at hand.

PHP Basics
JavaScript & jQuery: User Interaction Functions
CodeIgniter MVC Configuration & Implementation
Database Interactions with MySQL & CodeIgniter
Sublime Text 2: Useful Shortcuts
Git & GitHub: Setup and Common Commands
Heroku: Setup and App Deployment
Team / Enterprise License
$999
Are there other people on your team that would also benefit from the book? Purchase a team license and share The Complete Package with up to 50 members of your team.
The Book + Extra Resources
$119
Your First Web App book (PDF)

A complete guide that walks you through the creation of an entire web app, step by step.

Walkthrough Videos

Walking you through crucial aspects of web development.

Writing Code Like a Pro: Sublime Text 2 Tips & Tricks
How a Web App Functions: a Walkthrough of MVC
Implementing Ajax for a Better User Experience

Quick Reference Sheets

So you always have the most important information at hand.

PHP Basics
JavaScript & jQuery: User Interaction Functions
CodeIgniter MVC Configuration & Implementation
Database Interactions with MySQL & CodeIgniter
Sublime Text 2: Useful Shortcuts
The Book
$59
Your First Web App book (PDF)

A complete guide that walks you through the creation of an entire web app, step by step.

The book is the heart and soul of all of these offerings. It's where I spent the most time and it's the most important element included in any of the packages, so I want to make sure it isn't undervalued. The additional resources in the higher-tier packages offer a great way to increase your knowledge and develop your new skill set even further, but the book itself will still guide you through the creation of an entire web app, teaching you core concepts that you'll be revisiting for years to come.

So if budget is an issue, I highly recommend going for the book, itself. You won't be disappointed.
Questions?
Which package should I buy?
That really depends on your budget. Without a doubt, the complete package is the best (and the best value), but the book itself still offers a complete guide that walks you through the creation of an entire web app, from start to finish.
Is it available in other formats?
With all of the code samples contained throughout the book, it is only released as a PDF. Unfortunately, there isn't enough control over the layout of other formats, such as .ePub and .Mobi, so I'm unable to offer it in those.
What if it doesn't help me?
In all honesty, if the book is of no use to you, I don't want your money. Just reply to your receipt email, or get in touch with me, within 30 days of your purchase and I will issue you a full refund.
Have another question?
If I didn't answer your questions on this page, please feel free to get in touch with me and I'll certainly do my best to answer them.
So, who's behind this?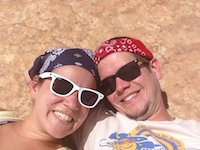 Hey, I'm Alex Coleman, a seasoned web developer, with nearly a decade of experience. I previously led a development team at a startup, but over the past several years I've been working independently, consulting and focusing on teaching and writing. I taught myself to code, and I'm passionate about helping others do the same, via writing and educational resources I publish for aspiring coders.
"I can safely say that Alex is one of the most well rounded and skilled web developers that I've ever worked with. He's extremely capable, his work is top notch, and he's a great communicator."

John Craven, Founder/CEO, BevNET